Radio City Music Hall Information
With a seating capacity of 5,960, the Radio City Music Hall was built on an area of land originally for the construction of a Metropolitan Opera House, which were changed in 1929 to make the Rockefeller Center, with two main buildings; the International Music Hall and the Center Theatre, build as part of the "Radio City" section of the Rockefeller Center. The Music Hall was designed by  Edward Durell Stone and Donald Deskey in an Art Deco fashion, and today showcases a variety of artworks. The venue is particularly notable for its auditorium, the largest in the world at the time of opening. 
In the 1970s, after many years as a hugely popular entertainment venue, the Music Hall fell into bankruptcy, but in 1978 was designated a New York City Landmark and restored to its former glory. From then until the present day, the venue remains a top destination for the greatest of the world's entertainers.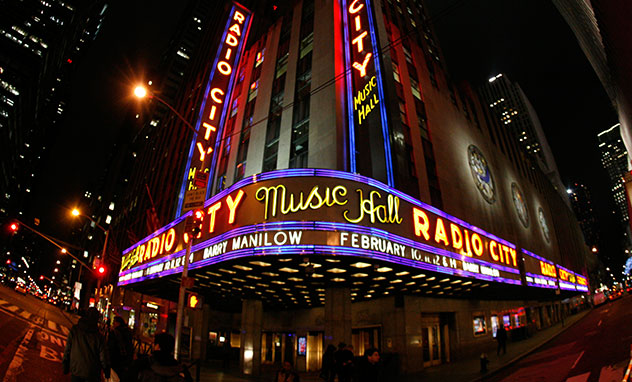 You'll find here all the Radio City Music Hall information you need to get the best from your visit.
About Radio City Music Hall
Radio City Music Hall is the world's biggest indoor theater, with a marquee that stretches down a full city block. You'll enter through a 60-foot high foyer that features specially designed carpets, vast chandeliers and a massive mural. In the auditorium, you'll be sitting in a space 84 feet high and 160 feet long. You'll see the walls sweeping up into splendid stepped arches that mimic the setting sun, with staircases flowing up toward the back. These side stairs allow actors to bring the live performance right into the audience area.
Every seat in Radio City Music Hall is a good seat. Your view won't be obstructed by columns and you'll be surrounded by art deco masterpieces. Comfortable seats are tiered in three shallow mezzanine floors, so you're well above the rear Orchestra section and won't have to crane over their heads to see. The Great Stage is as long as a city block, framed by an immense proscenium arch 100 feet wide and 60 feet high.
Radio City Music Hall History
The iconic building that became the Radio City Music Hall was completed in 1932. It
stands as a tribute to Art Deco design and the determination of John D. Rockefeller, Jr. to upgrade the neighborhood then known as the 'speakeasy belt.' He'd wanted to create a new Metropolitan Opera House, on a prime piece of real estate, but then the 1929 stock market crashed. The outlook wasn't good, but Rockefeller pressed on.
The result of his brave decision had a huge impact on New York's architectural landscape and secured it a permanent cultural legacy. Rather than just one venue, Rockefeller constructed a whole complex of buildings that now carry his name. He wanted to showcase buildings so extraordinary that commercial tenants would be tempted to invest there, even in the midst of the Great Depression. To do this, he acquired a commercial partner, the Radio Corporation of America.
RCA was already producing successful radio programs and motion pictures.
Combining their mighty media presence with Rockefeller's financial power was one of America's soundest ever business decisions. Together with the theatrical genius of impresario Samuel "Roxy" Rothafel, a historic dream was realized in the fantastic Art Deco theater. Because of its associations with popular media, the complex became known as Radio City.
What Makes Radio City Music Hall Special
Everything about Radio City is special, from its great setting to the shows you'll see there. It's well located for easy access, being right in midtown Manhattan. The iconic interior architecture was the height of Art Deco fashion in 1932, and continues to stand as a tribute to a great design and concept. Plus, the remarkable stage construction and special effects make sure that every show is memorable.
Since the beginning, Radio City Music Hall has also been the home of The Rockettes.
This famous dance troupe is best known for its starring role in the annual Radio City Christmas Spectacular. Even after nine decades, you can still enjoy favorite numbers like the Living Nativity and the Parade of the Wooden Soldiers. You can sit in the comfort of a splendid theatrical environment, and know that you're contributing to almost a century of musical tradition.
Who owns Radio City Music Hall?
The Music Hall is now owned and operated by Madison Square Garden Entertainment Corp. (MSG).