Welcome to the world of dazzling lights and unforgettable live performances at Radio City Music Hall, the iconic entertainment venue nestled in the heart of New York City's Rockefeller Center. For nearly a century, this historic theater has played host to some of the most famous names in music, comedy, and dance, creating memories that last a lifetime. Whether you're a seasoned theatergoer or planning your first visit, this comprehensive guide will help you navigate the ins and outs of attending a show at this legendary venue, including securing your Radio City Music Hall tickets.
From securing your Radio City Music. Hall tickets to exploring the various seating options, we'll walk you through everything you need to know to make the most of your Radio City Music Hall experience. So let's dive into the glamour that awaits you!
Key Takeaways
Secure tickets for an unforgettable experience at Radio City Music Hall with interactive seating charts and budget-friendly prices.

Enjoy a variety of seating options, from orchestra to VIP, accommodating up to 6,015 guests.

Explore upcoming events such as standup comedy or musical performances while taking advantage of the venue's accessibility features and concessions/refreshments offerings.
Securing Your Radio City Music Hall Tickets

For a memorable night at Radio City Music Hall, purchasing tickets from reputable platforms such as StubHub and Ticket Squeeze is recommended. These platforms offer a secure and user-friendly way to buy tickets for a wide range of events, from concerts and stage shows to the world-famous Radio City Christmas Spectacular. Plus, they provide an interactive seating chart to help you find the perfect vantage point for an optimal view of the great stage.
Doors usually open between 90 minutes and two hours before events start. Arriving early will allow for a smooth entry and enough time to locate your seat. To make your visit even more budget-friendly, consider attending a show on a Monday, when the average historical ticket price is just $158.30.
Radio City Music Hall Seating Options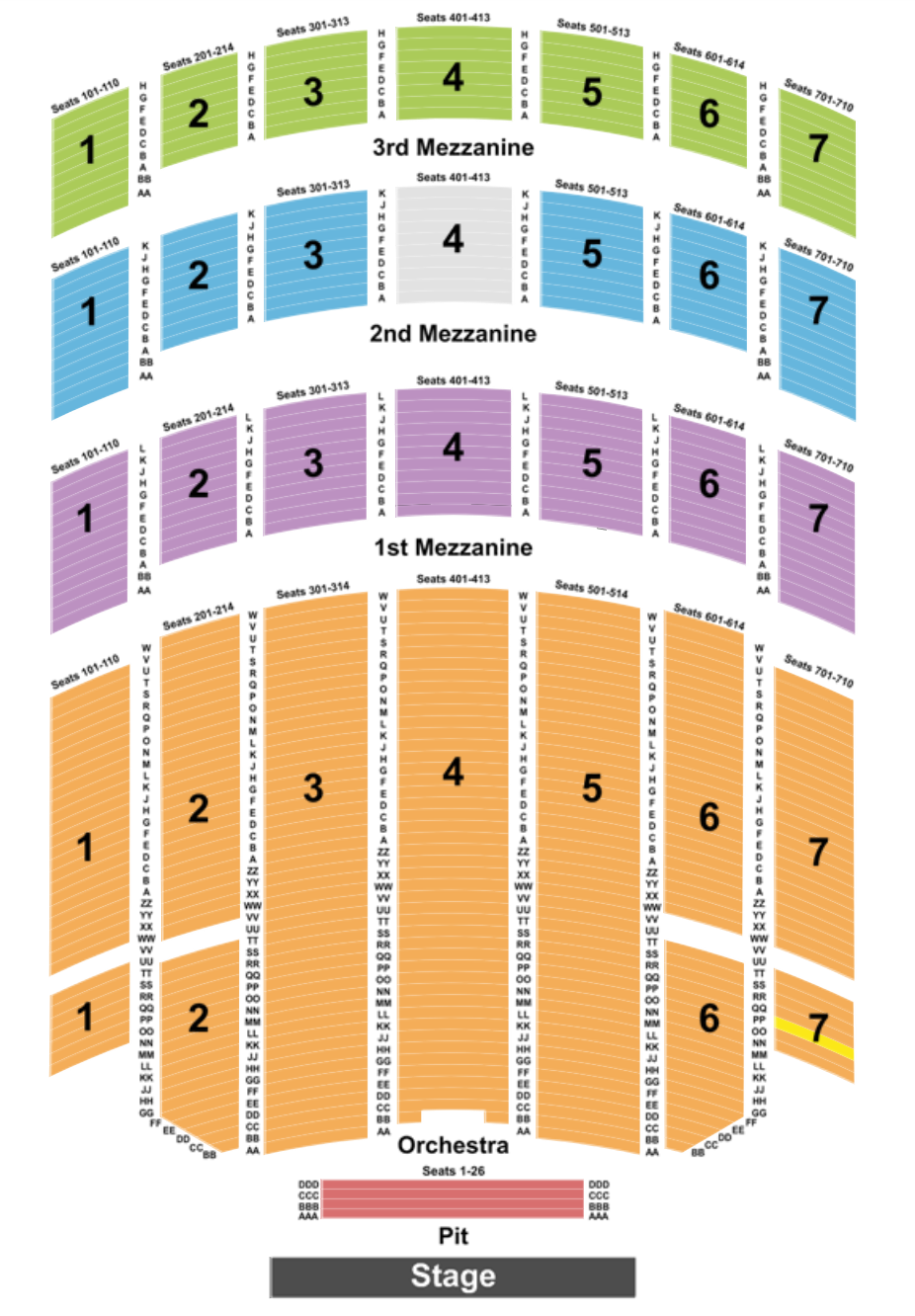 At Radio City Music. Hall in New York, you'll find a range of seating options to suit your preferences and budget. With a total capacity of 6,015, this legendary venue offers orchestra, mezzanine, and VIP seating, ensuring every guest enjoys an unforgettable experience.
Here's a more detailed look at each of these seating options.
Orchestra Seating
Orchestra seating provides an up-close and personal view of the stage, making it the ideal choice for those who want to be close to the action. This seating area is situated in the seven sections at stage level, making it the largest level at Radio City Music Hall and the most desirable and expensive option.
There's more to orchestra seating than just being close to the stage. Its direct view of the performers allows full immersion into the show, letting you experience the energy radiating from the stage. So, if you're looking for an unforgettable experience, be sure to consider orchestra seating when purchasing your tickets.
Mezzanine Seating
For those who prefer an elevated view of the stage, mezzanine seating provides a bird's-eye perspective of the entire performance. This seating option provides a unique vantage point, showcasing the intricate choreography and stage design that make Radio City Music Hall shows so mesmerizing.
While mezzanine seating may not be as close to the stage as orchestra seating, it still offers an impressive view of the performance. Plus, the elevated perspective provides a clear line of sight, ensuring you won't miss a single moment of the action.
VIP Seating
VIP seating is an option to consider for a luxurious experience at Radio City Music Hall. These exclusive seats offer premium views and access to special areas of the venue, such as the Roxy Suite, which is adorned with historic gems. VIP seating ensures that your visit to this iconic venue is nothing short of extraordinary.
To secure your VIP tickets, visit websites like PremiumSeatsUSA.com or EventTicketsCenter.com, where you'll find detailed information on the various VIP seating options available. Whether you're celebrating a special occasion or simply indulging in a night of unparalleled entertainment, VIP seating at Radio City Music Hall is the ultimate choice.
Upcoming Events at Radio City Music Hall
Radio City Music. Hall hosts a diverse lineup of events throughout the year, catering to a wide range of tastes and interests. From movie premieres and comedy shows to musical performances by chart-topping artists like John Mayer, Stevie Wonder, and Bette Midler, there's truly something for everyone at this iconic venue.
To stay updated on the latest shows and purchase tickets, visit our Radio City Music Hall upcoming events page.
Getting to Radio City Music Hall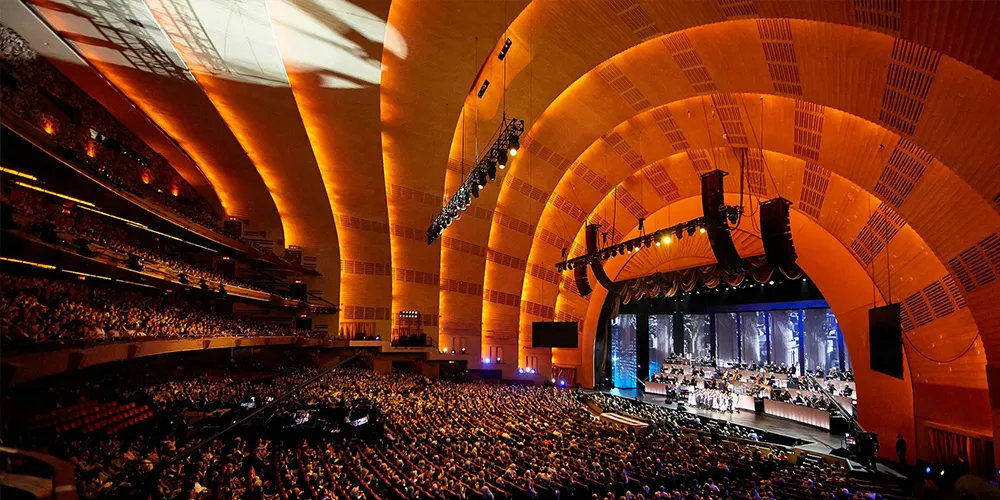 Radio City Music. Hall, positioned in New York City's bustling heart, is readily accessible via numerous public transportation modes. Multiple subway lines, including the 1, B, D, F, and M trains, as well as MTA buses M5, M6, M7, and M27/M50, all stop within walking distance of the venue. This makes traveling to the theater a breeze, allowing you to focus on enjoying your night out.
Although many find public transportation convenient, those preferring to drive have several parking garages and lots near Radio City Music Hall. Rates may vary depending on the time and location, so be sure to research parking options beforehand to find the best fit for your needs.
Accessibility at Radio City Music Hall
Committed to a welcoming and inclusive guest experience, Radio City Music is committed to a welcoming and inclusive guest experience. Hall offers numerous accessibility features catering to various needs. Wheelchair-friendly seating is available on the orchestra level, with aisles sloped from back to front for easy navigation. Elevators provide access to the mezzanine levels, ensuring all areas of the venue are accessible.
In addition to accessible seating, Radio City Music offers accessible seating. Hall offers a variety of other services to enhance the experience for guests with disabilities. These include:
Accessible entrances
Accessible restrooms
Escorts
Storage for nonaccessible seats
Assistive listening devices
American Sign Language interpretation (available upon request)
Concessions and Refreshments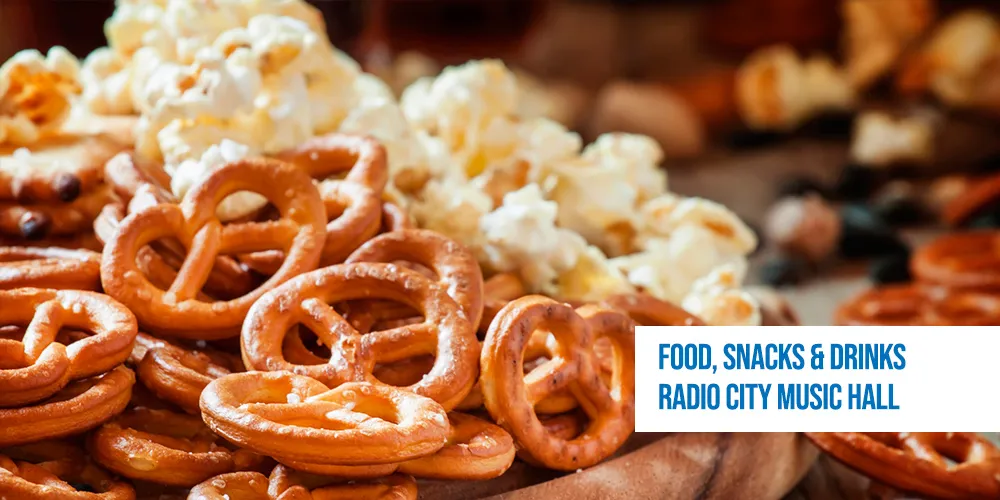 Your visit to Radio City Music. Hall wouldn't be complete without some indulgence in delicious snacks and refreshing drinks. The venue offers a variety of food and drink options, including:
Popcorn
Pretzels
Hot and cold beverages
Freshly baked cookies
Ensuring there's something to satisfy every craving across the Americas.
In addition to the classic snacks, you'll also find a selection of beer, wine, and spirits to enjoy during your visit. So whether you're in the mood for a cold soda or a glass of wine, the concession stands at Radio City Music Hall have you covered.
History of Radio City Music Hall
Since opening its doors on December 27, 1932, Radio City Music has opened its doors. Hall has evolved into a cultural icon, becoming a cornerstone of New York City's entertainment scene. Constructed as part of the development of Rockefeller Center, this historic theater boasts the title of the largest indoor theatre in the world, providing a grand stage for countless famous performers and events throughout the years.
As you explore the venue and enjoy a show, take a moment to appreciate the rich history that surrounds you. From the iconic marquee to the stunning Art Deco interior, Radio City Music is an iconic marquee. Hall is a testament to the timeless allure of live entertainment.
The Radio City Rockettes
image src="/wp-content/uploads/2023/09/radio-city-1.jpg.webp" alt="radio city rockettes"]
The Radio City Rockettes, a world-renowned dance troupe renowned for their precision and high-energy performances, are synonymous with Radio City Music Hall. Originally known as the Missouri Rockets, this group of talented dancers made their debut in St. Louis in 1925 before being discovered by showman S.L. (Roxy) Rothafel and brought to New York City. They have been performing at Radio City Music. Hall since its inaugural night in 1932, captivating audiences with their mesmerizing routines and signature high kicks.
One of the most iconic Rockettes performances is the annual Christmas Spectacular, a festive tradition that showcases dazzling dance numbers and heartwarming holiday scenes. Whether you're a longtime fan or a first-time viewer, the Radio City Rockettes are sure to leave you in awe of their incredible talent and unmatched dedication to their craft.
Rockefeller Center Attractions
Beyond the magic of Radio City Music. Hall, there are many other attractions at Rockefeller Center worth exploring. One must-see attraction is the Radio City Stage Door Tour, which takes you behind the scenes of this iconic venue and offers a glimpse into its storied past.
During the holiday season, Rockefeller Center transforms into a winter wonderland, complete with festive decorations and the iconic ice-skating rink beneath the Christmas Tree and the Prometheus statue. Whether you're visiting for a show or simply exploring the area, there's no shortage of exciting experiences to be had at Rockefeller Center.
Tips for Attending a Show at Radio City Music Hall
Follow these helpful tips for a fulfilling visit to Radio City Music Hall. First, be sure to check the venue's bag policy before you arrive. All bags must not exceed 12" x 12" x 6" in size, and all items must fit into a single, clear plastic bag. This policy ensures a smooth entry process and helps maintain the safety and comfort of all guests.
Additionally, it's a good idea to arrive at least 30 minutes before the show starts. This gives you ample time to find your seat, settle in, and soak up the atmosphere before the performance begins.
Lastly, if you're planning to drive to the event venue, research parking options in advance to find the best fit for your needs.
Summary
From securing your tickets and selecting the perfect seating option to exploring the rich history and world-class entertainment offered at Radio City Music Hall, this guide has provided you with all the information you need to make the most of your visit. As you prepare to attend a show at this iconic venue, remember to embrace the excitement and energy that radiates from every corner of this historic theater.
Whether you're catching a concert, laughing at a comedy show, or marveling at the precision of the Radio City Rockettes, a visit to Radio City Music is worth the visit. Hall is sure to create memories that will last a lifetime. So gather your friends and family, secure your tickets, and get ready to experience the magic of live entertainment at one of the world's most famous venues.
Frequently Asked Questions
What is the dress code for the Rockettes?
For the Rockettes performance at Christmas Spectacular, there is no formal dress code. However, semi-formal or smart casuals are advised for a comfortable experience.
It is recommended to use personal discretion when dressing for the show.
What time does the box office open at Radio City Music Hall?
The box office at Radio City Music Hall is open Monday through Saturday from 10:00 a.m. to 8:00 p.m.
Hall will remain open until one hour after the event begins.
How early should I get to Radio City Music Hall for a concert?
It is recommended that you arrive at Radio City Music Hall at least 30 minutes prior to showtime to allow enough time for parking and security.
How long is the rockettes show?
The Radio City Rockettes' Christmas Spectacular show lasts for 90 minutes with no intermission, offering viewers an entertaining experience with 140 performers.
Bring your family and friends to enjoy this spectacular show!
What seating options are available at Radio City Music Hall?
Radio City Music. Hall offers seating in the orchestra, mezzanine, and VIP sections, ensuring a great view of the stage no matter where you sit.