Radio City Music Hall | New York City, New York
On October 7 and 8, 2023, Nate Bargatze will be performing at Radio City Music Hall, and fans can't wait to see him. He has to be one of the funniest entertainers working in the business right now, and he promises an evening full of belly-laughing laughter and clever humor. Fans love his clean humor, allowing people of all ages to enjoy his special brand of comedy, and that is why hordes of people love going to his shows. It should come as no surprise then that he is renowned for filling up venues, and he has an unmatched ability to engage his audience with relatable and humorous anecdotes. Get your tickets right this second before they sell out, as his army of loyal followers has already started snapping up all the remaining tickets. Click the "GET TICKETS" button right now for an evening you won't soon forget!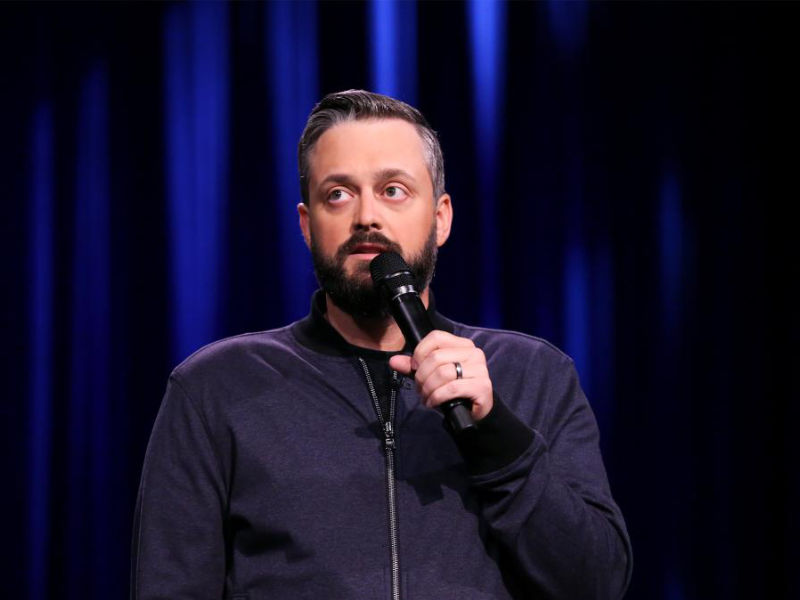 Dubbed one of the nicest people in stand-up comedy, Nate Bargatze's wholesome comedy has attracted a huge following of devoted fans. In fact, in April 2023, he packed out Nashville's Bridgestone Arena with just under 20,000 people watching his performance, setting a new all-time record at the venue for attendance. He is fast becoming a very big thing, and there are no signs of him slowing down, so be sure to catch this show.
Bargatze was born on March 2, 1979, to Stephen and Carole Bargatze, who were devout Christians in Nashville, Tennessee. Nate cites his parents as influences for his clean cut comedy, where he talks about not being able to tell a dirty joke that his parents would hear.
Nate is no stranger to the small screen, having appeared 10 times on "The Tonight Show" with Jimmy Fallon and having made appearances on Conan. His specials are things of pure comedy genius, with his comedy album, "Being Yelled at by a Clown," released in 2014, reaching the number 2 spot on the Billboard Comedy Charts, and his "The Greatest Average American," being nominated for a "Best Comedy Album" Grammy in 2022.
His tours have received critical acclaim on several occasions, and he has performed at several different venues, including Bonnaroo, Sasquatch, and the JFL Montreal Comedy Festival. He is currently on the road for his "The Be Funny" tour, and it promises to trump all of his past work.
Nate married his wife, Laura, in 2006, and apart from touring, Nate has created "Nateland," a weekly podcast. He also loves the sport of golf and can be found playing on the green. He is also a general sports enthusiast and can be found supporting his team, the Vanderbilt Commodores.
With such high acclaim for his work, it should come as no surprise that he has amassed a huge fan base, and whenever he goes on tour, everyone wants to watch his family-friendly comedy. Expect there to be a rush for tickets for this show, so be sure to grab your tickets right here and now before they sell out.