Radio City Music Hall | New York, New York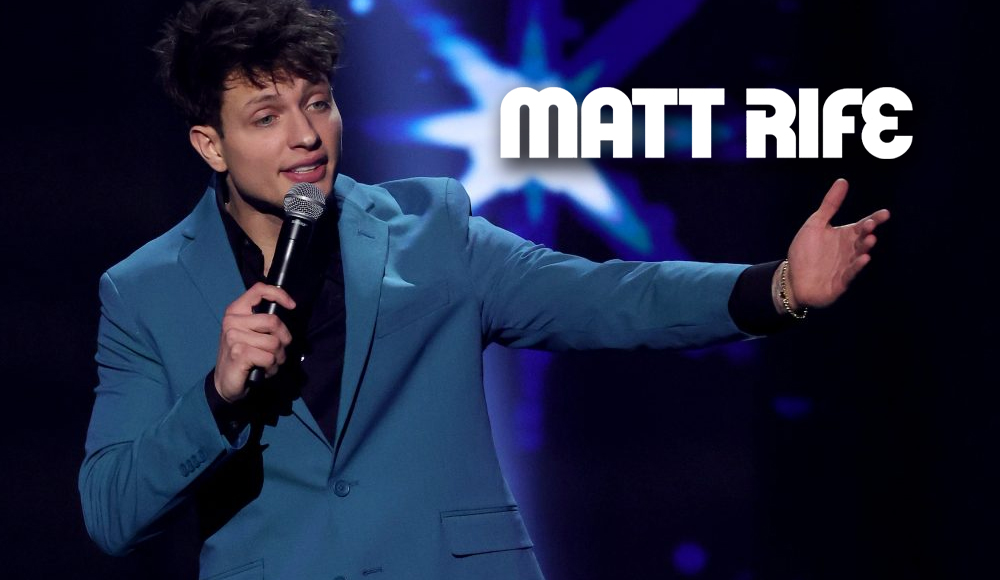 Exposed... for another night! This generation's hottest comic is taking his massive ProbleMATTic World Tour for another night at Radio City Music Hall. The man is popping up for back-to-back shows, setting the stage on fire on Saturday, February 3rd of the new year. Hitting cities across North America, Australia, and Europe, the Live Nation-produced trek is marking one of the man's biggest career milestones. Finding acclaim for his viral 2021 special "Only Fans", the hilarious hunk continues to spew crazy antics and relatable tales that get the crowd wild. The tour announcement follows the release of his personal YouTube special "Matthew Steven Rife". Featuring raw stories and deep conversations set to light your day up, the man definitely wins audiences for his hilarious wit and charming personality. This time around, he's prepping for the release of his first-ever Netflix special "Natural Selection". Don't miss out on Rife's perfectly ProbleMATTic World Tour by booking your tickets now!
Every inch of Matt Rife's charming self is bound to be exposed, live on tour. The world's favorite hunk comic is launching his biggest tour yet, the ProbleMATTic World Tour. Produced by Live Nation, the global trek will take the man's genius and hilarious wit to the next level. Following the release of his new YouTube special "Matthew Steven Rife", Rife is switching things up with his first-ever Netflix special, "Natural Selection".
In a conversation with deadline, the man hints that his new special is leaving "no topic untouched — from crystals to social media trolls — and no audience member spared."
Oh boy! Get your popcorn ready. "The first half of it is so silly and ridiculous and fun, and the second half is some stuff I actually got to pour some thought into," as he shares that he always likes to leave the audience with something "people can think about" and reflect on while churning out a hilarious and fun story. "I'd say it's my most fun hour yet. I think people are really going to like it. There's something in there for everybody."
There's definitely something out there for all of you. This time around, he's gearing up to launch his massive global tour. Twelve years in the making, one of Rife's biggest dreams is coming to life. "I couldn't be more thrilled to live out this life long dream!" the man shared. "To tour the world, spreading laughter, with some of my best friends, is something I never thought would be possible. I'm so grateful to get this opportunity, and it's even more fulfilling knowing that it's all because of the incredible people who enjoy my comedy."
With a passionate team behind him alongside the massive support of his loving fans, Rife is bound to accomplish anything he dreams of. "Matt has quickly become one of the fastest-rising comics, creating incredible global demand for tickets," Andy Levitt of Live Nation shared in a statement. "We're looking forward to working alongside him and helping him connect to his audiences around the world."
He's got a way with words! A storyteller by heart, Matt Rife undoubtedly knows how to get the crowd hooked - just by being himself. "So much of my style has grown to become more story-based. I'm not a big joke writer—the typical premise, setup, punchline," he shared with Esquire, explaining that he pop out just to share his life experiences with his own twist.
With new specials and a global trek to watch out for, make sure to mark your spots as Matt Rife hits the stage. Tickets are selling out hot! Hit that button now!