Radio City Music Hall | New York City, New York
His songs have made the world weep as his lyrics made you reminiscence days with 'someone you loved. Known for his soaring vocals matched with striking lyrics that mend the heart, Lewis Capaldi is gearing up for the release of his new album "Broken By Desire To Be Heavenly Sent". The man is also embarking on the "Broken By Desire To Be Heavenly Sent" in support of the new record, singing his biggest hits, crowd-favorites, and 'heavenly sent new tracks off of the new album. Catch him perform live at Radio City Music Hall on Thursday, April 6th of 2023 by booking your tickets now!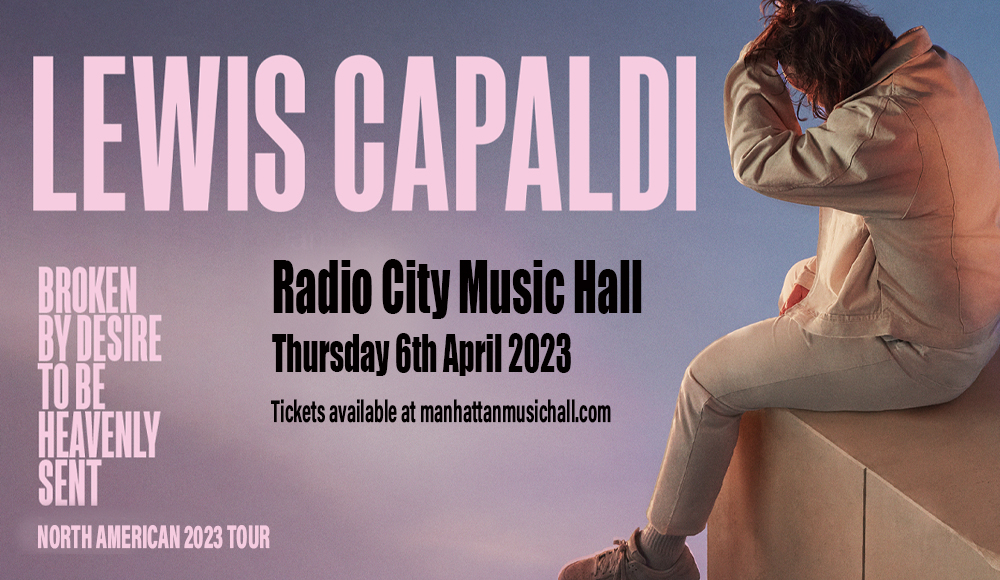 As sensational as his breakout hit "Someone You Loved" that sent the world into tears, Lewis Capaldi had sold out tickets to his shows in literally seconds. He even made history as the first artist to sell out an arena tour before the release of his debut album. That's how you know the man's craft is one that hits right through listeners' hearts. With a massive following for his authentic, heart-crushing, and highly-relatable lyrical masterpieces, Lewis Capaldi emerged to be one of this generation's best new artists.
Highly-acclaimed for his debut studio album "Divinely Uninspired to a Hellish Extent" which featured his biggest hits "Hold Me While You Wait", "Before You Go", and "Someone You Loved", Lewis Capaldi is jet-set to share his highly anticipated new album "Broken by Desire to Be Heavenly Sent". In the works since 2020 amidst the pandemic, and even taking a break from social media to focus on his craft, Lewis Capaldi is ready to dominate the global stage once again with his signature lyrical tales and crushing melodies that hit right home.
"I felt like I was sounding better because I was just chilled out in my own gaff," Capaldi shared. "I don't want to create a new sound for myself, or reinvent myself. The songs I want to write are emotional songs, about love or loss."
In an interview in the past about his breakout hit "Someone You Loved", Capaldi shared that the track was inspired by "losing people in different forms,". As a storyteller who uses his voice to bring out emotions in each of his listeners, he explains that he "wanted to keep it quite broad because I wanted people to apply their own stories. That's one of my favorite things about the song is so many people come up to me and say, 'This song means this to me.'"
As a taste of his new material coming out next year, he shared its lead single "Forget Me". As a man of authenticity and heart, "I don't have this sort of artistic desire to go off and reinvent myself. Not at all.," he shared. "I feel like the same person, so why would I be searching for something new?" talking about his new album with The Guardian.
Broken By Desire To Be Heavenly Sent is scheduled for release on May 19, 2023, and is available for pre-order now.
Make sure you save yourself a spot at the Broken By Desire To Be Heavenly Sent North American Tour 2023 by booking your tickets now!