Radio City Music Hall | New York City, New York
The indie-pop sensation led by Michelle Zauner, Japanese Breakfast, just announced their massive headlining show at Radio City Music Hall on Thursday, 5th of October 2023. With support from Japanese singer-songwriter Ichiko Aoba, Japanese Breakfast will be serving their biggest hits and fan favorites fresh from the musical kitchen! Following their first serving of critically-acclaimed hits with their debut album Psychopomp in 2016, Japanese Breakfast soon became a daily favorite among the indie crowd. Don't miss out on Japanese Breakfast's NYC headlining show by booking your tickets now!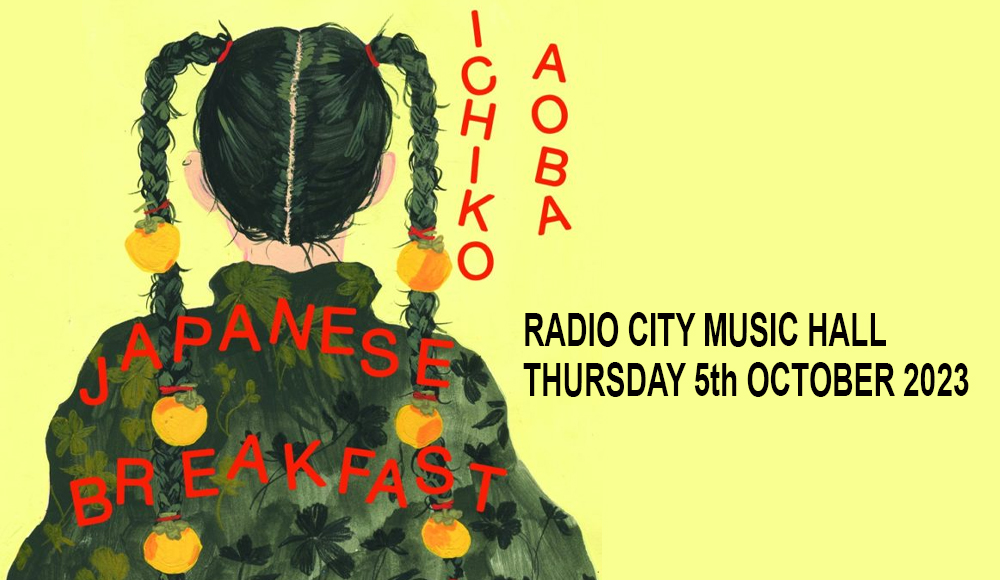 What started as a month-long project between two friends who would record one song a day and post them on Tumblr, the moniker "Japanese Breakfast" stuck around as Michelle Zauner continued recording. In 2015, she recorded her first album as Japanese Breakfast, "Psychopomp". Inspired by a mythological creature, her "dark and heavy-handed" album tackled struggles dealing with her mother's death, while still trying to keep her music "sonically upbeat".
Soon after the release of her first singles "In Heaven" and "Everybody Wants to Love You", the album was released in its entirety, amassing critical acclaim. After signing a record deal, the album was re-released internationally, and the artist toured with Japanese-American singer-songwriter, Mitsiki.
From then on, Japanese Breakfast continued to create honest lyrical masterpieces that concerns detachment, trauma, struggles, and finding hope. Her notable releases include "In Heaven", "Everybody Wants to Love You", "Head over Heels", "Be Sweet", "Posing in Bondage", and "Slide Tackle".
Japanese Breakfast baged 2 Grammy nominations for "Best New Artist" and "Best Alternative Music Album" in 2022.
Highly acclaimed for her raw honesty and unique artistry, Zauner's latest album "Jubilee" was released in June 2021, her first entry to chart on the Billboard 200. "Discordant yet psychedelic, shoegaze yet guttural, these albums put Zauner and Japanese Breakfast on the map as a razor sharp, powerfully evocative indie band," shared NME.
"When I finished it, I knew in my heart that it was the best thing I could make and I would be OK if people didn't agree" Zauner told NME. "The album represented such growth for me. My lyrics and arrangements are the strongest they've ever been and my voice is the best it's ever sounded."
Following the release of their latest record, the band was met with even more critical acclaim, amassing global success. The album also brought the band two Grammy nominations, along with milestones performing at Coachella and SNL.
As the indie-pop sensation headlines at Radio City Music Hall, make sure to save your spots at the show by booking your tickets now!