Radio City Music Hall | New York City, New York
Yo! Cool kids of the 90s, this is the moment y'all been waitin' for! Take a fantastic voyage to a time when music was a melting pot of funk, soul, beats, rap, rhythm, riffs, jams, rock, groove… conjure the early days of hip-hop, and relive the Freestyle & Old School Extravaganza happening at the Radio City Music Hall on Friday 10th February 2023. A sensational mishmash, bringing together an all-star certified 90s icons in one stage — Lisa Lisa, Mase, Tone Loc, Montell Jordan, Slick Rick, Juddy Torres, The Cover Girls, Cece Peniston, and a whole lot more! Such a mind-blowing music event gets even more exciting as it will be held in the nonpareil Radio City Music Hall. One of the greatest 90s parties you'll ever witness in this lifetime. Hurry, book your tickets now!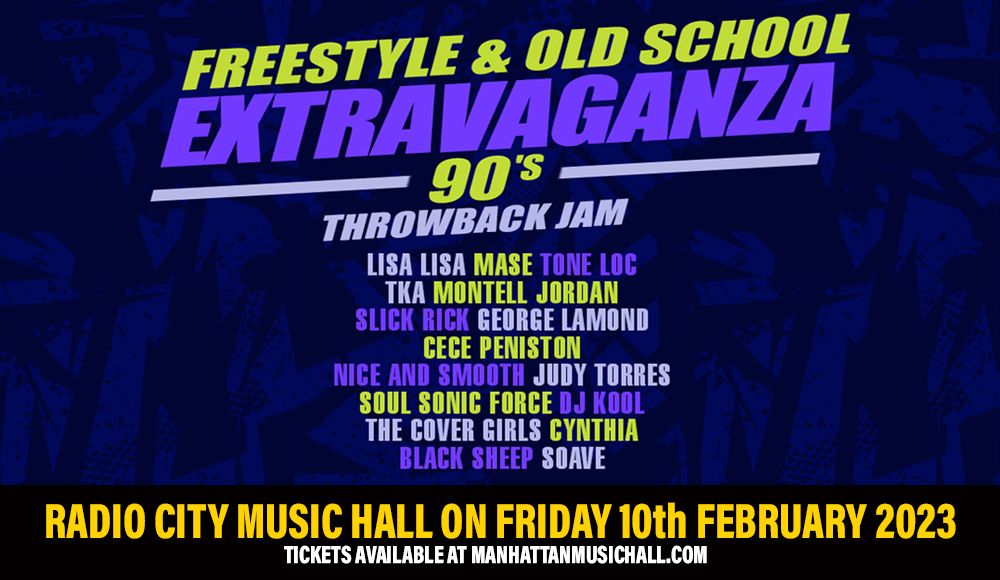 Think of the days of MTV. The 90s music scene was a golden era when music evolved with technology. The mind-blowing visuals of music videos plus the free-spirited style of rap, funk, soul, and everything in between, was blasting on your ears and unlocking the early days of the burgeoning hip-hop scene. Flashforward to 2023 — all these will come alive right before your very eyes…
The Freestyle Extravaganza started in 2004, and since then, crowds grew bigger and bigger as the artist line-ups have raised the bar for hip-hop throwback festivals. This year the spirit of the 90s Throwback Jam is burning bright with such a stellar roster. Get "Lost in Emotion" and feel infectious dance rhythms from "Head To Toe" with Lisa Lisa. Get schooled when the beat drops as Montell Jordan shows you "This How We Do It". Then if you take a dose of Tone Loc's "Funky Cold Medina", you'll surely shake your groove and be a "Wild Thing". And if The Cover Girls got you "Wishing on a Star", then Cece Peniston will boost up your spirits with the rousing swag and sing out "Finally"!
The Freestyle & Old School Extravaganza party at the Radio City Music Hall is a 90s kid's dream come true. Gather your crew, your homies, and yes get your gen Z kids schooled too. Tickets are moving fast, so get them in flash!