Radio City Music Hall | New York, New York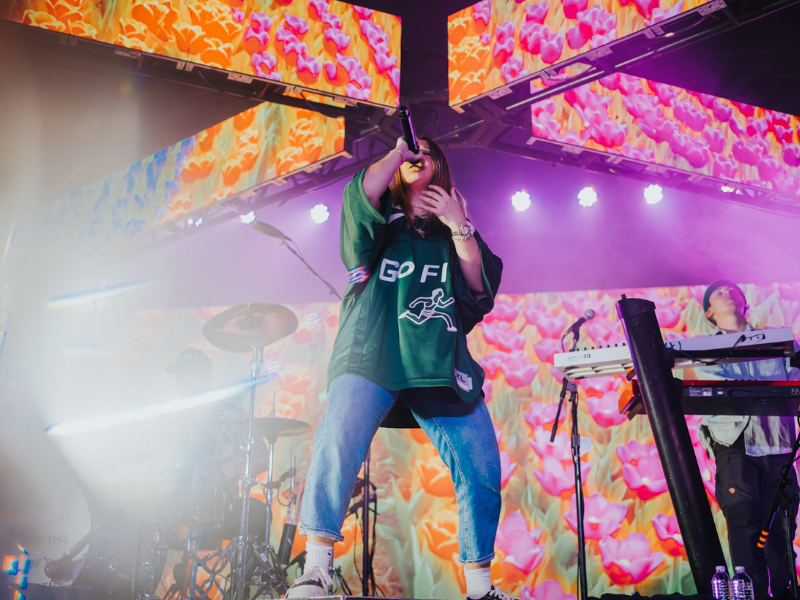 Sentimental is the sound at the Radio City Music Hall as indie pop singer Chelsea Cutler lights it up on Friday, February 23, alongside special guest Yoke Lore! Brace yourself for a cathartic experience with our featured act's masterful synthesis of electronic beats and guitar harmonies. Chelsea Cutler began her professional musical journey in 2017, launching the fan-favorite Snow in October EP. Her debut studio album, How to Be Human, was a Billboard 200 Top 23 runner-up, which included the Top 32 Pop Airplay song "Sad Tonight." Last October, Cutler released her third album, Stellaria. The collection was an instant critical success, showcasing the musician's trademark sound in 15 beautiful tracks, including "you're all i ever dreamed of" and "Hotel June. "The Beauty is Everywhere" 2024 tour will promote the album, visiting 29 cities nationwide. Its NYC stop will be at the Radio City Music Hall, a world-class venue famed for its dome-amplified operatic acoustics. Get your tickets now!
Connect with Chelsea Cutler and feel the emotion waft through synth-laden acoustic melodies in her newest concert outing this 2024, featuring special guest Yoke Lore! "The Beauty is Everywhere" tour is set for 29 North American shows celebrating the pop singer's third studio album, with a Big Apple gig at the Radio City Music Hall on February 23.
Inspired by the likes of Coldplay and Florence + The Machine, Stellaria dives deep into Cutler's psyche—a sensual exploration of love and vulnerability. It balances classical string and modern electronic sounds, showcasing them in 15 lovingly produced tracks brimming with life's radiance.
Something More
Growing Up Is Hard
I Don't Feel Alive
Men On The Moon
Your Bones
Hunting Season
If Not Yours
you're all i ever dreamed of
Loved By You
You Don't Think About Me At All
Hold Me While It's Ending (feat. Matt Maeson)
The Way You Love Me
No One Hates Me More
Hotel June
Stay Anything
"Sometimes you forget that where you're supposed to be is exactly where you are. All I really hope is that Stellaria is a reminder to live in the present moment, to let yourself feel everything, and to meet life where it's at. The beauty is everywhere," Cutler shared in a Q&A.
Before her first studio album, Chelsea Cutler released two EPs: Snow in October, featuring the gold-certified hit "Your Shirt," and Brent (with Jeremy Zucker), which introduced the platinum single "You Were Good to Me." Her official debut album, How to Be Human, peaked 23rd on the weekly Billboard 200 chart, marking the Billboard Pop Airplay ranks with the Top 32 track "Sad Tonight." Cutler's discography would later round-up with two other collections in 2021, the Brent II EP and When I Close My Eyes.
Special guest Yoke Lore (Adrian Galvin) will open the show, treating the crowd with his exquisite folk-rock melodies. Very recently, the musician released his latest album, Toward a Never Ending New Beginning, which includes hits "Cruciform I," "Shake," and "Hallucinate."
Come out and catch Chelsea Cutler's Friday jam session on February 23 at NYC's Radio City Music Hall! Often called "The Showplace of the Nation," the indoor venue maximizes acoustic coverage through its dome architecture. The viewing area, meanwhile, is basked with an ethereal ambiance that transforms any performance into an otherworldly spectacle. Approximately 6,000 guests have the chance to see this LIVE, so buy your tickets now and make sure you're one of them!