Radio City Music Hall | New York City, New York
He turns you on 'like a light switch, taking you back to memories 'left and right, the one and only Charlie Puth just announced his first full-length North American tour since 2018. The Charlie Live Experience takes the singer's third studio record to the live stage, serving his biggest hits and new music, kicking off this spring. The tour will be stopping over at Radio City Music Hall on Thursday, 15th of June 2023. Coming to you live just 'one call away, the "Attention" singer is set to serve his music at its best – live on stage at the Charlie Live Experience. Book your tickets now!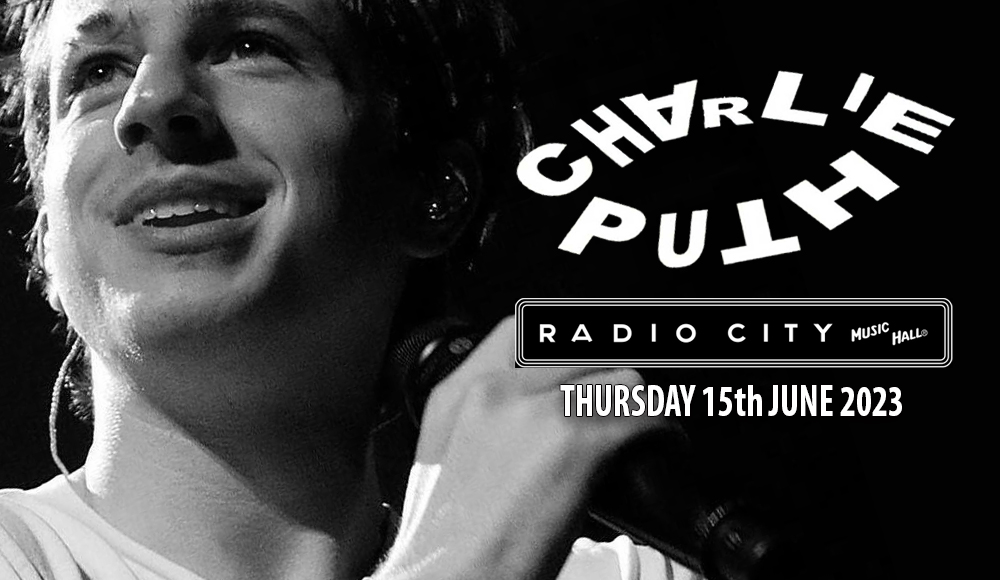 Breaking out into the scene with his 2015 multi-platinum hits "Marvin Gaye" featuring Meghan Trainor and "One Call Away", along with a global hit feature on Wiz Khalifa's track "See You Again", Charlie Puth dominated the airwaves over the past few years. With his new self-titled record out in its entirety, featuring its hit singles "Light Switch", "That's Hilarious", and "Left and Right" with Jungkook, the superstar is set to serve a one-of-a-kind Charlie Live Experience in support of the album.
Kicking off this May, the Charlie Live Experience will be taking the singer to perform on an extensive North American tour trek, his first since 2018's Voicenotes tour in support of his sophomore album. With a new record that reflects his maturity, growth, and honesty as an artist, Puth looks forward to sharing this energy with the crowd.
"I don't think I'm ever gonna make an album where I'm hiding away from people," Puth told Roling Stone. "and I'm in my little cocoon and then one day I'll be ready to share it with everybody. It just doesn't feel like me."
Having skyrocketed to mainstream success with his debut single "Marvin Gaye" featuring Meghan Trainor, Puth followed it up with a slew of hit singles over the next few years including "One Call Away", "We Don't Talk Anymore" featuring Selena Gomez, "Attention", "How Long", "Done for Me", and "The Way I Am".
As Light Switch became a global viral hit after Puth shared its creation process on TikTok through "a seemingly random bunch of thoughts and noises made with different objects into a pop song", Puth followed-up the viral hit with a new song featuring BTS' Jungkook. Puth told Rolling Stone that the superstar is a "low-key prodigy". "He has perfect pitch and can recall any note on the spot, which I found very impressive. He doesn't speak a lick of English, and we're able to communicate like we're best friends just through music. It's a really nice, beautiful thing."
"Charlie" was released on October 7, 2022, hitting #10 on the Billboard 200.
As Charlie Puth takes his new record to the live stage, promising a unique live experience, make to have your seats saved right away by booking those tickets now!