Radio City Music Hall | New York, New York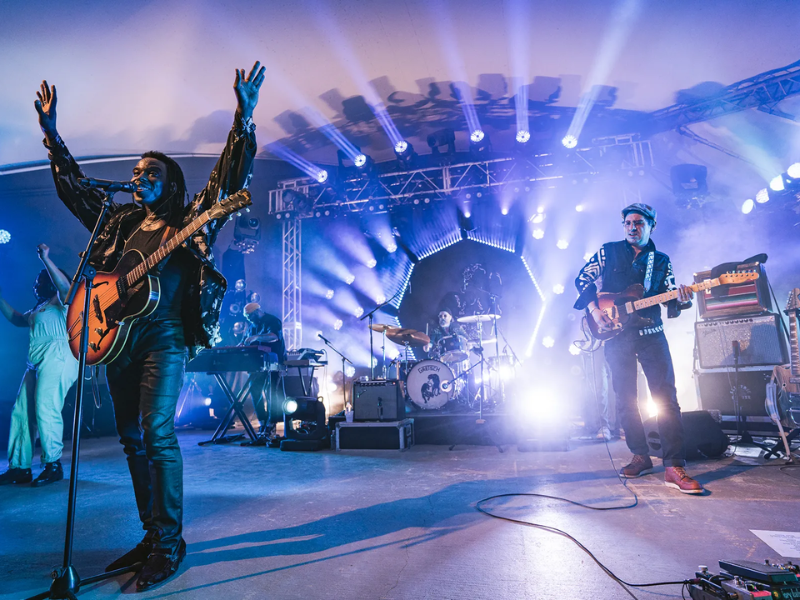 Welcome Black Pumas back on their long-awaited return to the concert stage this Friday, January 19, at the Radio City Music Hall. First collaborating in 2018, the psychedelic soul duo rapidly established themselves in five short years with FIVE Grammy nominations so far. Their self-titled debut album introduced "Colors," a blues-inspired track that took first place in Billboard's Adult Alternative Airplay. Since then, the partners released more chart-busters, including "Fire," "I'm Ready," and the recent "More Than a Love Song." Featuring special guests Digable Planets, Black Pumas will set out for New York's Radio City Music Hall on the second day of their US-to-Europe international tour. This much-anticipated series comes after the duo's Texas stint and the release of their second studio album. So book your tickets now and lose yourself in the mind-melting music of Black Pumas LIVE!
Explore a kaleidoscope of sound with the revolutionizing soul duo Black Pumas as they once again break music barriers at The Big Apple! After a regrettable cancellation of their last tour, our headlining act excitedly announced their return to the concert circuit with a Texas-exclusive engagement AND an international series spanning the US and Europe. The second trip will kick off in Philadelphia, with a next-day follow-up here at the Radio City Music Hall on January 19, featuring special guests Digable Planets.
"The group and three singers acted as co-conspirators in a mission to make believers, not only in their fresh take on classic soul but the songs, which were filled with romantic desire and positive vibes. With considerable skill, they delivered floating jazz grooves, vintage funk, and psychedelic soul."
Besides their upcoming tours, Black Pumas also makes a momentous comeback with their second album, Chronicles of a Diamond, showcasing their first-ever collaborative single, "Mrs. Postman," co-written with keyboardist JaRon Marshall. No official setlists for the concert have been revealed, but there's a good chance they'll play their latest album's songs!
Now, let's wind back and get into the nitty-gritty of the pair's rising career. Frontman Eric Burton joined forces with the Grammy Award-winning guitarist-producer Adrian Quesada in 2018 after the latter decided that Burton's vocal quality was perfect for his R&B-flavored retro-funk WIPs. A year later, they released their self-titled album, which includes the twice Grammy-nominated hit "Colors." Their first LIVE album, Capitol Cuts (Live from Studio A), came two more years later with another Grammy nom. So far, Black Pumas' ongoing career has amassed five Grammy Award nominations, with several mind-bending tracks released in between, such as the Billboard Adult Alternative Airplay no. 1 hit, "More Than a Love Song."
Our opening act, Digable Planets, is a Grammy-winning trio composed of rappers Ishmael "Butterfly" Butler, Mariana "Ladybug Mecca" Vieira, and Craig "Doodlebug" Irving. They are widely recognized as an influential force behind jazz rap and alternative hip-hop, producing free-flowing tracks like "Where I'm From" and the Billboard Hot Rap Song chart-topper "Rebirth of Slick (Cool Like Dat)."
Radio City Music Hall, dubbed "The Showplace of the Nation," will open its historic Art Deco doors for Black Pumas' LIVE performance on Friday, January 19. The indoor entertainment venue has a near-6,000 guest capacity in its breathtaking amber viewing area. Thanks to precision-engineered sightlines, audiences can enjoy a truly immersive concert experience in addition to the dome-amplified acoustics surrounding them. Seats are filling up fast - make your reservations ASAP!