Radio City Music Hall | New York City, NY
Prescribing large doses of laughter amidst early lockdowns, the 'quarantine-favorite' comedy star, Taylor Tomlinson, is hitting the live stage at Radio City Music Hall on Saturday, 9th of September 2023. She's giving it her all as she continues to bring 'The Have It All Tour' live on stage across the country. Following massive waves of success from its first run, she's back in the game, serving laughs across the country and beyond. With two Netflix specials proving her undeniably genius wit and hilarious takes on life's realities, the "Quarter-Life Crisis" star is bound for greatness. Featured on various best-of-the-best lists across publications such as The New York Times, Vulture, and the Los Angeles Times, a Tomlinson show is definitely one for the books. Promising an 'ultra-produced' show, big surprises are expected as she gives it her all. Book those tickets now!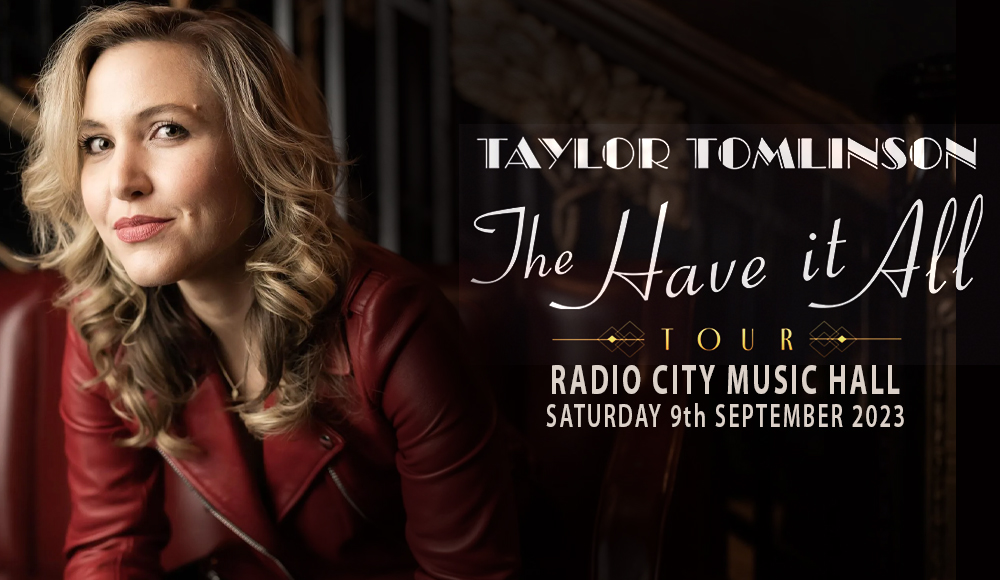 After overwhelming support for her "The Have it All Tour", Taylor Tomlinson is extending its U.S. trek with over thirty additional shows on the roster. Known for telling tales of surrounding every bit of her life from childhood to getting it on with dating in her new Netflix special "Look at You", Tomlinson is acclaimed to be one of the brightest gems to come out of the global pandemic. Though she's been active in the comedy scene since becoming a Top-10 finalist on NBC's "Last Comic Standing" in 2015 with various appearances on The Tonight Show, Conan, and Comedy Central, her first Netflix Special "Quarter-Life Crisis" in March of 2020 quickly grew her global audience.
As the comic shines brighter and sends louder laughs across the globe, she's set to continue giving her all at her extended "The Have It All Tour" this year. The Los Angeles Times shares that "even when she's navigating painful waters, she can't help but find the humor… her wit and pinpoint delivery reveal both an incisive writer and also a talented actor."
With many stories to tell from happy times to not-so-happy moments, she's able to find joy and humor across life's highs and lows, proving her comedy-gold talent!
From being sent to stand-up classes by her dad at 16 and honing her craft at schools and church basements, Tomlinson soon became a globally-sought comic for her talent and ability to find humor in whatever situation one can go through. She also made it to Forbes' "30 Under 30" list in December of 2021, and Time's "100 Next" which features a hundred identified stars globally. She's definitely a shining star on our list!
Following two successful Netflix Specials, Tomlinson just signed a deal with Netflix for an additional 2 stand-up specials for the platform. "That's a level of security that you don't get very often in this business," Tomlinson shared with Variety. "It's a huge weight off your shoulders… I feel incredibly grateful and lucky."
As the lockdown brought her unexpected success, she reflects back on life's surprises. Her personal and relatable content definitely helped shape her edge over other comics in the scene. "I'm a pretty personal comedian," she shared. "I am generally writing about things happening in my own life, in what I hope is a very relatable way."
Definitely one of the top comics to watch out for, make sure to save your spots at The Have It All Tour before they sell out! Book your tickets now!