Radio City Music Hall | New York City, New York
The sensational Chinese pianist, Lang Lang, recently released his alluring new album "The Disney Book". Serving pieces across different points in time of Disney favorites as the Walt Disney Company celebrates its 100th anniversary, Lang Lang takes his graceful talent on an exciting and nostalgic record. In support of his new masterpieces, Lang Lang is launching The Disney Book Live in Concert, with an extraordinary performance at Radio City Music Hall on Tuesday, February 14th, 2023. If you've been looking for the perfect Valentine's date, let Lang Lang's graceful piano renditions of your favorite Disney hits make you fall in love. Book your tickets now!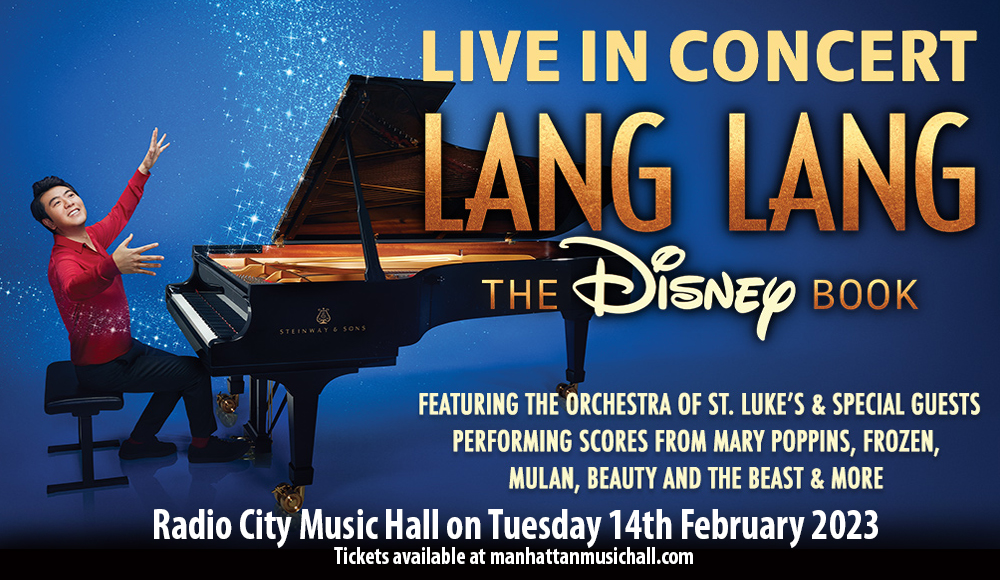 Acclaimed and recognized by various musicians around the world, Lang Lang is a remarkable performer for his great flair and mastery of playing the piano. Renowned conductor Jahja Ling said, "He has the flair and great communicative power." Lang Lang's talent has conquered and infused both styles of being a classical prodigy and a contemporary master of the instrument. With astounding talent and his youthful charm, Lang Lang never fails to impress.
In September of 2022, Lang Lang unveiled his newest album, The Disney Book Live, featuring reimagined Disney hits through his striking and alluring piano covers. The album features 24 famous Disney pieces including "Beauty and the Beast", "A Whole New World", "The Bare Necessities", and so much more. Moreover the sound of impressive piano skills, the album also features guest appearances from the likes of Andrea Bocelli who served vocals for "You'll Be in My Heart" and Jon Batiste for his award-winning score from the hit film 'Soul', "It's All Right". Other guests include Sebastián Yatra, Guo Gan, Miloš, Gina Alice, the Royal Philharmonic Orchestra and Robert Ziegler.
"Animation sparked my imagination and transported me to other worlds. The music was a big part of this experience, and led to my lifelong love of classical music," Lang Lang shared. "There is such a variety of styles in Disney songs; truly, something to inspire everyone. I hope that people of all ages will enjoy this recording and experience the joy that we all felt the first time we saw a Disney film."
With an astounding new album featuring Disney hits that touch the hearts of every generation, Lang Lang carefully crafted each track to exude and share the Disney magic with every listener. He hopes to share the same experience of being transported to different worlds with music, which he cites as the power of Disney's films in his life.
"Music helps you to experience other worlds," shares Lang Lang. "there is such wonderful variety in Disney songs there is something to inspire everyone. This is my heartfelt gift to all generations everywhere."
As Lang Lang embarks on a tour, live in concert, bringing with him The Disney Book, make sure to mark your calendars on February 14th for the perfect Valentine's date featuring nostalgic hits, heart-fluttering piano talent, and alluring renditions of Disney tracks that have touched everyone's lives. Book your tickets now!