Radio City Music Hall | New York City, New York
Swedish folk duo First Aid Kit just took the world by storm with a sonic banger of an album. Fresh from the release of their fifth studio record, Palomino, sisters Johanna and Klara Söderberg just announced an extensive headlining tour in support of their new record. The Palomino Tour is kicking off, with a special stop at Radio City Music Hall on Tuesday, 18th of July 2023. Featuring their new singles "Angel", "Out of My Head", "Turning Onto You", and "A Feeling That Never Came", Palomino is an album that gorgeously serves First Aid Kit's sonic healing power. Don't miss out on their new songs live on stage at the Palomino Tour by booking your tickets now!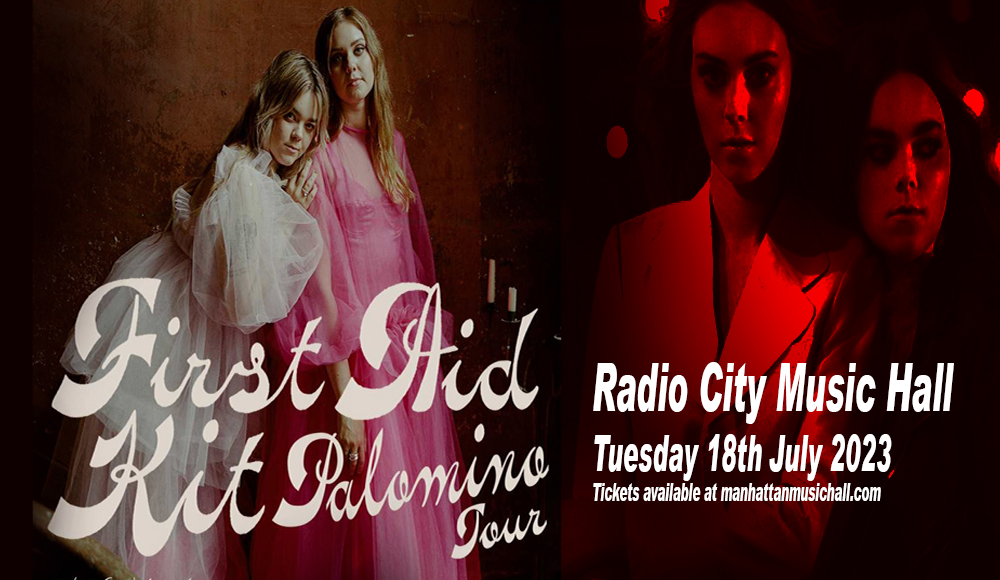 With a new highly-acclaimed album up their sleeve, First Aid Kit sisters Johanna and Klara Söderberg are set to bring the album to the live stage on an extensive headlining North American Tour. With a pop-infused folk-rock record blessing the ears of listeners around the globe, First Aid Kit is definitely a promising act in the global music scene. Prior to the album's big release, the duo dropped their new single "A Feeling That Never Came", a guitar-driven track with a disco groove.
"Just like the title suggests, 'A Feeling That Never Came' is a song about emptiness." Johanna and Klara shared. "Those times in your life when you expect to feel joy or sorrow, but instead you just feel numb. This was the last song we recorded for the album – originally intended more as a b-side, it has quickly become one of our favourites. We feel like the softer, quieter vocals married so well with the Marc Bolan-inspired guitars and groove. It's a soft quiet banger."
As the world itched to hear the new album in its entirety after teasing the duo's new sonic landscape full of growth and new influences through the album's first singles "Angel", "Out of My Head", and "Turning Onto You", Palomino came as a beautiful surprise oozing with musical growth and beautiful artistry.
From self-made tracks posted on MySpace, First Aid Kit began roaring, aiming for gold, and winning the hearts of listeners worldwide. They've amassed a huge following over the last decade for their folk-rock masterpieces including "My Silver Lining", "Master Pretender", "It's a Shame", "Fireworks", "Ruins", and "Emmylou".
With a big new year for music and as the world reopens its doors for live concerts, First Aid Kit is here to save the day with a gorgeous new record and a matching headlining tour.
"Here it is. Our fifth album Palomino. Straight from our hearts to yours." the sisters shared. "We are immensely proud of this record and we had such a joyous experience making it. To us, it symbolizes freedom and moving forward. Like the imagery of the Palomino riding off into the unknown, we hope these songs will give you inspiration and solace wherever they find you."
As their new record continues to gracefully take over airwaves around the globe, First Aid Kit is excited to share their new album, live on stage as the crowd resounds every lyric and melody to Palomino. Book your tickets now!